Our complete premium service includes all the items you need to get your Delaware Limited Liability Company started:
We check the availability of your chosen company name.
Includes all Delaware Division of Corporations filing fees.
Preparation of the Delaware Certificate of Formation.
We perform a review of all your documents prior to submission and after receipt from the Delaware Division of Corporations.
Same day filing (if submitted prior to 4:00pm).
Names and contact information are held confidential by the registered agent and not available for public record and not required by Delaware for the formation documents.
Upon request, we will E-mail a scanned copy of your approved Certificate of Formation.
Free first year Registered Agent service ($100 per year thereafter)
Certified Copy of your Certificate of Formation.
Preparation of IRS Form SS-4: Application for EIN (Employer Identification Number, or Tax ID number).
Deluxe Folio Corporate Kit is customized for each LLC and shipped within 5 to 7 business days, excluding weekends and holidays. The LLC kit includes:
An impressive, handsomely designed, extra-strength 3-ring binder which will last many years. The heavy binder is covered with a leatherette fine case bound book material in burgundy, and attractively detailed with inside pockets. The Corporate name is engraved on a brass plate affixed to the front cover.
Folding Corporate embossing seal with storage pouch.
Stock Transfer Ledger – an 8 page booklet for recording all the details of stock ownership.
LLC Membership/Certificate Register, a great organized way for listing members and certificate holders
Five Tabs printed on heavy, reinforced stock: Minutes, Articles, Operating Agreement, Certificates, Membership Listing
Delaware Operating Agreement printed on heavy paper
20 customized Membership Certificates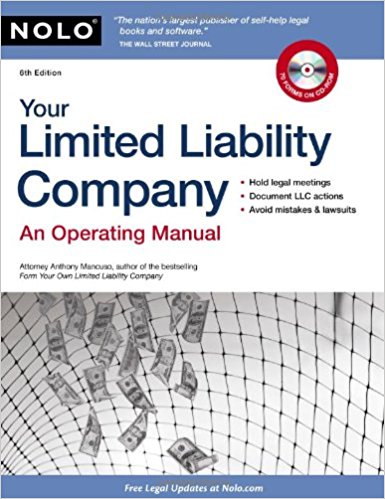 Bonus
Your Limited Liability Company: An Operating Manual (book with CD-Rom), 5th Edition
by Anthony Mancuso Attorney; Publisher: NOLO
This easy-to-read book offers everything you need to maintain the legal validity of your LLC before the courts and the IRS. It helps you approve and document important legal, tax and business decisions to create a paper trail that avoids legal trouble. Completely updated and revised to include the latest laws and forms for all 50 states, as tear-outs and on CD-ROM. A $49.99 value.
Shipping
Corporate Documents are sent by United States Postal Service International Mail. Corporate Kit is shipped separately by UPS Courier.
Please Note – Expedited Fees
The State of Delaware is often busy processing Corporations and Limited Liability Companies. Depending on the volume of business The Delaware Division of Corporations can take 1 to 4 weeks to process a business entity and generate the documents. For people interested in a fast turnaround time, Delaware offers an expedited service at an additional fee. Expedited fees for LLC formation and processing the above included documents within 24 hours (excluding weekends and holidays) – $75.00 extra.