What's Included in Our Premium Incorporation Service?
In addition to the necessary documents to start your corporation, our service includes a Premium Corporate Kit. This kit consists of:
An impressive, handsomely designed, extra-strength 3-ring binder with durable metal hinges which will last a lifetime. The heavy binder is covered with a leatherette fine case bound book material in black and burgundy, and attractively detailed in gold with matching slip case. The Corporate name is hand embossed in gold on a rounded spine.
Folding Corporate embossing seal with storage pouch. Seals are 1-5/8" in diameter (41mm), and custom made with the corporation's name, state, and year of incorporation.
Stock Transfer Ledger – an 8 page booklet for recording all the details of stock ownership.
Six position Tabs printed on heavy, reinforced stock: Articles, By-laws, Minutes, Stock Certificates, Transfer Ledger, and Forms.
State of Delaware specific printed sample minutes and By-laws and a PDF copy on CD.
20 customized stock certificates imprinted with corporate name, authorized corporation issue, and pertinent information. We normally provide green stock certificates with a watermark (other colors and types of stock certificates are available upon request).
20 self-adhesive gold embossing seals for stock certificates.
Stock Certificate personalized CD software which allows one to easily customize, issue, and print stock certificate details directly from a computer.
Order Premium Incorporation Service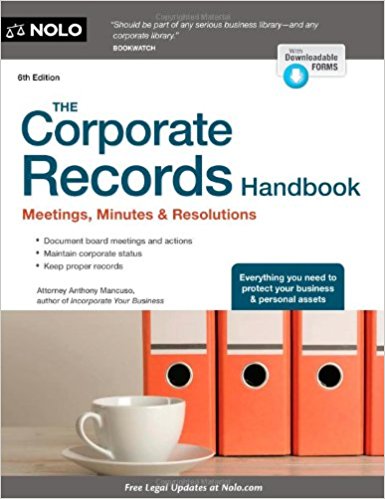 Bonus
The Corporate Records Handbook: Meetings, Minutes and Resolutions (7th Edition or most current version)
by Anthony Mancuso, Attorney; Publisher: NOLO
Because meeting minutes and resolutions are the primary paper trail of a corporation's legal life, it's important to know when and how to prepare these minutes and resolutions. This book provides all the forms, plus instructions you may need, both as tear-outs and downloads from NOLO — to insert into your minutes book. This easy-to-read, practical guide is highly recommended for anyone operating a corporation.


Our Premium Royal Corporate Kit is customized for each corporation and is shipped to you within 2 to 3 business days, excluding weekends and holidays. Courier delivery of Corporate Kit and Book outside the continental United States is extra.
Items Necessary to Start Your Corporation
Our premium service includes all necessary documents and items you need to get your Delaware Corporation started:
We check the availability of your chosen company name.
Includes all Delaware Division of Corporations filing fees (assuming minimum stock authorization of 1500 shares or less of no-par stock).
Preparation of the Delaware Certificate of Incorporation.
Same day filing (if submitted prior to 4:00 PM).
We will E-mail a scanned copy of the Certificate of Incorporation for approval.
Free first year Registered Agent service ($100 per year thereafter)
Certified Copy of your Certificate of Incorporation.
Good Standing Certificate.
We are available 7 days a week to answer questions or be of assistance.
Please Note – Expedited Fees
State of Delaware expedited fees for the LLC formation and processing of the above included documents within:
24 hours – $90 extra, order must be received by us prior to 4:00pm EST, Delaware will complete the request by end of next business day, excluding weekends and holidays.
Same Day processing – $150 extra, order must be received by us prior to 1:00pm EST, Delaware will complete the request that day.